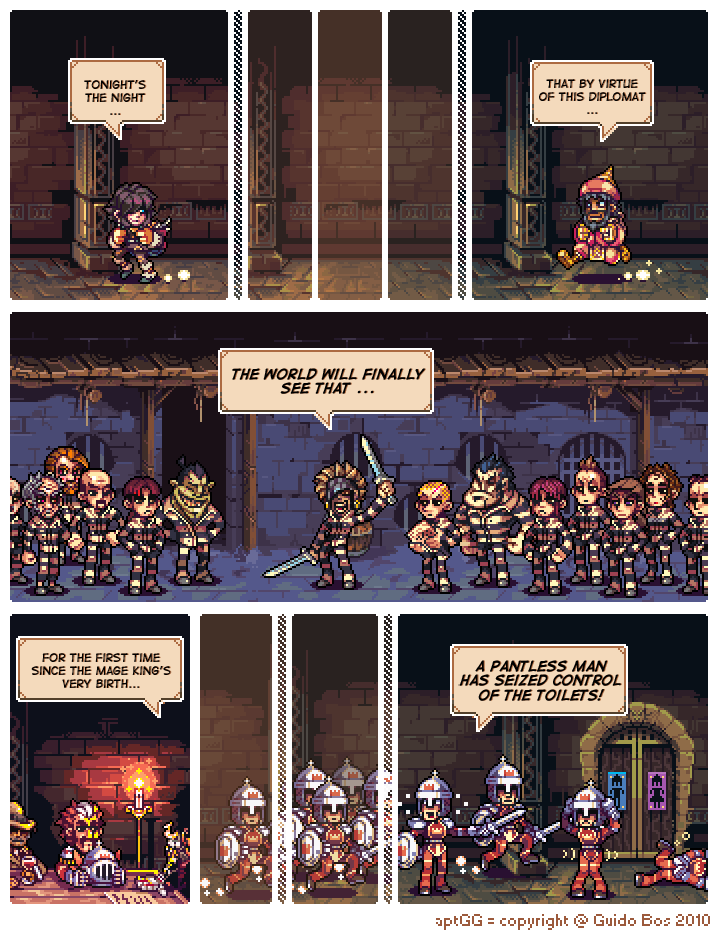 Sunday, November 21 2010 - 10:31 AM
By: Neoriceisgood
As the night starts ...
Hey guys, updating early this week cause I feel like I'd like to get this page out there before monday (as I'm generally so tired during the week due to intern that my comments become kinda ... depressing-sounding, apparently);
Either way, as you might've noticed this page has another style change in several ways.
Before anyone complains please read the following;
The text bubbles:
Not much to say aside from the fact that I like these, the three -big- complaints with the old ones were;
1# colours too bright
2# font not readable enough
3# the bubbles feel too bulky
I changed these three aspects up a lot, and hope these new ones are much more perfect, but I'll let you guys judge how you like them.
Keep in mind, as much as I appreciate your critical feedback, being nice about the stuff you do like does make any negative comments a lot less stingy.
Either way, onto another big change; the sprites themselves;
Now I know that for the first time since the start of the comic I've severely (and I mean severely) lowered the resolution, making the sprites a lot smaller (and simpler in places).
I understand that this can be considered a quality decrease in ways, -however- there is a very very good reason for this decision, namely;
The latest style, although cool and expressive has been ... tedious to work with.
If my memory serves me right a few of the last comic pages might actually have taken me longer than the same comic would've taken me if I drew it by hand, which kinda ... contradicts one of the big reasons why sprites are good namely; how easy they make it to create new pages.
Eventhough I'm lowering my update rate a lot due to my internship, I recognised that -before- intern certain page types could hardly be done within a day due to the sprite work and that, once internship is over, I definitely couldn't create more than 3 pages per week.
As I'd like to increase my update rate back to the way it was pre-hiatus eventually, I realise that the big-big sprites just can't last.
Either way, feel free to provide feedback keeping these facts in mind.
Kind regards and peace,
Guido Bos